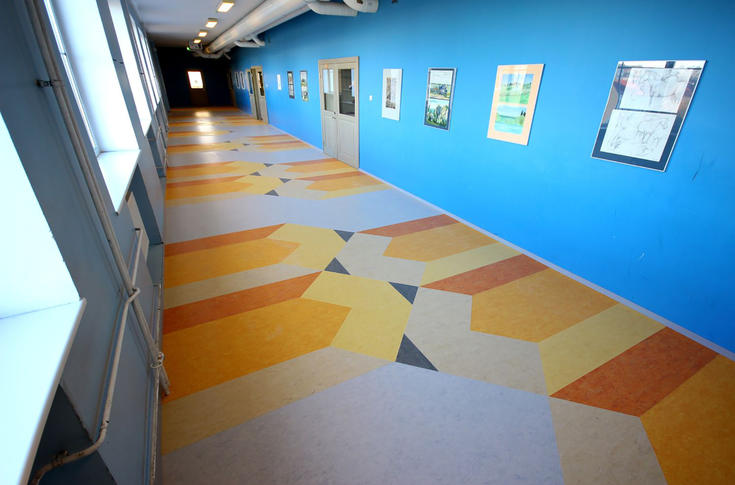 Tallinn Art Gymnasium
2017 | Tallinn, Estonia
Linoleum is a flooring solution with many features and advantages that are often unknown to the general public. Linoleum has a history dating back to the 19th Century and is made from totally natural ingredients. We have realized that when people, especially Architects and Installers, learn about what Linoleum is made of, the history of the product and all of its benefits such as 100% recyclability, they often become passionate about it. We were keen to share our passion for this sustainable and beautiful flooring solution with architects and installers in Estonia. This is why we partnered with Lincona, the largest flooring importer and seller in Estonia, and got in touch with Tallinn Art Gymnasium Principal Märt Schults to organize a competition and a Seminar for Architects and Installers on Linoleum.
A competition for Estonian Architects & Installers
The goal of the competition was to present a project for the flooring of a 140m2 corridor in the Tallinn Art Gymnasium, using only Linoleum. As Linoleum can be used to create custom designs (for example, our Floorcraft Service offers to create custom flooring designs with Linoleum among other flooring products), Architects' inspiration wasn't hindered in any way. The Art School Principal agreed to host an event in their premises and to install the winning project in the main corridor of the School. Among the 16 projects for the corridor that were submitted, the winners were:
A 2-day seminar on Linoleum
After the competition a 2-day seminar was organized with 2 focus groups for Architects and Installers around Linoleum, its advantages and the installation process. At the end of the seminar, Jan and Birgit Skolimowski's project was installed in the corridor of Art Gymnasium, thus providing students and academic staff alike with an inspiring and aesthetic learning environment. In addition, all the participants had acquired a more thorough knowledge of what Linoleum is, colour and design options, as well as the installation process.
About
A competition at Tallinn Art Gymnasium with architects and installers. The challenge: create a unique design for the Art School's main corridor using Linoleum