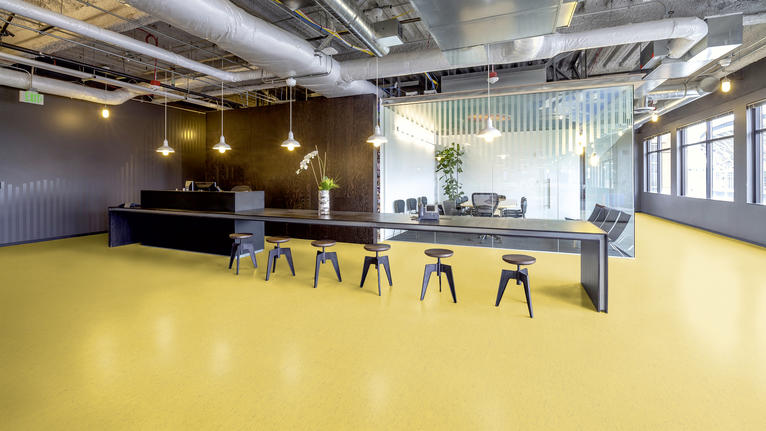 Linoleum floors: what you need to know – and will likely remember
Linoleum was invented in the 60s… the 1860s!
In the 1860s, English inventor Frederick Walton noticed that a tin of oil-based paint he had left open developed a rubber-like skin. Applying a mixture of linseed oil, gum, resin and ground cork to cloth, he created the floor covering that found its way into homes and offices worldwide. He named his invention "linoleum", from the Latin "linum" for linen or thread and "oleum" meaning oil. Tarkett's Lino goes back to 1898. Like many, Alberto Altieri, associate director at Studio Altieri "certainly did not imagine that a product with such a modern look and usage had such a long history".
Linoleum is a natural flooring solution
Plants, trees and minerals provide the raw materials that combine to make linoleum. From the linseed oil and pine rosin that bind the ingredients together to the jute backing on which they lie, almost all are renewable. The result is a floor covering as natural and beautiful as it is resilient and recyclable. Here are the ingredients used to make Linoleum natural floorings:
 
Flax. Flax is a blue-flowered plant that is grown organically. We even have some fields around the Tarkett factory in Narni (Central Italy).The crop's seeds are dried and pressed locally to make Linseed Oil.
Pine rosin. It is the solidified form of the resin harvested from coniferous pine trees.
Wood flour. It is finely pulverized wood, also known as wood fibre. This ingredient gives the mixture lightness and durability.
Cork dust. It keeps the mixture strong and flexible.
Calcium carbonate. This ingredient is a chemical compound found in rocks.
Jute. This vegetable fibre spun into strong threads forms the base for the flooring.
Linoleum helps create healthier and more sustainable indoor spaces
Linoleum also contributes to creating healthy interior spaces. Its TVOC emissions are 100 times lower than the most stringent industry requirements, which contributes to improving spaces' indoor air quality. Linoleum also contributes to creating more sustainable spaces thanks to its composition, manufacturing and recyclability. Made of 94% natural raw materials, it is composed by 78% abundant renewable resources including local suppliers to reduce the carbon footprint of the floor. Also, thanks to an internal production through photovoltaic panels, biomass boilers, geothermal systems and the purchase of 100% renewable electricity, the production process of linoleum leverages renewable energy production. Linoleum is also eligible to Tarkett's Restart ® program through which post-installation off-cuts can be collected and sent back to the manufacturing site to be re-engineered as new products.
Linoleum ignites creativity
Decades of innovative craftsmanship coupled with the material's inherent versatility give Tarkett's Lino range unrivalled breadth and scope for creativity. From classic to contemporary patterns and bright hues to natural tones, there is a look to lend every interior a sense of style whether in education, healthcare or aged care, stores and shops, hospitality or the workplace.

At Tarkett, the Linoleum colour palette is carefully developed in our laboratory and guided by consumer research and design trends. Linoleum offers 112 different colours and 7 different designs that can really bring a very aesthetic touch to any interior concept. Philippe Ameller, Associate Director at Ameller & Dubois Architects, says that linoleum's 
consistent finish is good to look at, and there's a wide variety of colours and attractive designs.
Linoleum can also be customized in order to create a specific interior atmosphere. Our Floorcraft Service teams can also help with creating custom linoleum flooring patterns. Contact your local representative to find out more on this service.
Linoleum is a robust flooring option
What makes Linoleum an option not to be overlooked is that, on top of being sustainable and aesthetic, it is a long-lasting product. Edouard Mure, Associate director at Agence Antonio Lazo Edouard Mure, says:
Linoleum has a timeless quality. You lay it, and when you come back 10 years later, it's still just as genuine.
Linoleum is long-lasting thanks to its natural ingredients, especially those that stabilize and give it durability, like wood flour. But what makes for even more durability is the surface treatment that is applied at the end of the manufacturing process. Tarkett's Linoleum products come with various surface treatments:
Xf²™ improves resistance and reduces the life cycle cost
Essenza is a non-polyurethane surface treatment
 
Thanks to these surface treatments, the maintenance of Linoleum is made easier and requires 3% less water usage, 7% less electricity usage and 20% less detergent for a better indoor air quality. This also makes it a hygienic flooring option that meets demanding requirements in hospitals for example.
Linoleum is the result of a meticulous process that blends innovation with traditional craftsmanship, and has been doing so for more than a century. Skill, care and patience are essential throughout since the use of natural ingredients means the procedure cannot be hurried.

1. Making Linoleum Cement. Linseed oil and pine rosin are gradually heated and mixed with air for 24 hours. The resulting linoleum cement is laid out on the ground to cool and then cut into pieces.

2. Creating Linoleum granules. Linoleum cement is added to wood and cork flour (for lightness, durability, strength and flexibility), calcium carbonate (a natural filler that brings stability), recycled linoleum and pigments to create a trial batch of linoleum granules.

3. Testing the Linoleum granules. The minute linoleum granules are pressed flat in the laminator, creating a roll that is tested for colour, quality and consistency before starting larger-scale production.

4. Creating Linoleum granules on a larger scale. During this stage, the linoleum cement is mixed with the other ingredients in bigger quantities, yielding a greater output of granules.

5. Linoleum granules are made into sheets. Lamination and calendering [1] is when the linoleum granules are heated before passing through the laminator and then move on to be calendered.

[1] A calender is a set of heated rolls to which Linoleum is fed, to be rolled out into a continuous sheet as it passes through the rolls.

6. Linoleum sheets are dried and seasoned. After calendering, the linoleum sheets are hung to dry and season for 20 days or more in room-sized, concrete ovens. This enhances their flexibility and resilience to indentation.

7. Protection and quality control. Finally, a protective layer is applied to the surface before the linoleum undergoes visual examination for imperfections. The thickness is likewise carefully checked.
There is a growing appeal for sustainable approaches in today's society. Rachel Botsman, Author and Founder of Collaborative Consumption and SPREAD[2] project advisor, says
A big shift from the 20th century hyper-consumption, to a 21st-century age of collaborative consumption is under way. The convergence of social technologies, a renewed belief in the importance of community, pressing environmental concerns, and cost consciousness are moving us away from the old forms of consumerism toward one of sharing, aggregation, openness, and cooperation.
With this growing interest in sustainable living, Linoleum is generating new interest. Tarkett is building on this to make its own linoleum range, together with the manufacturing processes that create it, even more sustainable. The Cradle to Cradle®[3] philosophy adopted in 2009 is central to the Tarkett approach. Cradle to Cradle doesn't just mean recyclable raw materials and cleaner manufacturing. It also involves recycling and disposal at the end of the product's life. Closed-loop design ensures Tarkett Linoleum can be reused or returned to nature as biodegradable material.

The Veneto 100% linen and the Originale collection, both made with 100% natural constituents, are Cradle-to-Cradle Gold certified™. Linoleum's manufacturing process at Tarkett is also sustainable. Constantly seeking to improve the sustainability of its production methods, Tarkett currently saves 80 million litres of water at the Narni plant (Central Italy) by recirculating what it uses. The plant also has photovoltaic panels, a biomass boiler, its own geothermal heating system and uses renewable electricity.
[2] « SPREAD Sustainable Lifestyles 2050 » is a research programme
[3] The Cradle to Cradle® Certification guarantees Tarkett follows certain requirements in the production process, such as having a Material Reutilization Score of 65 or higher, or using electricity from a renewable source for the final manufacturing stage.