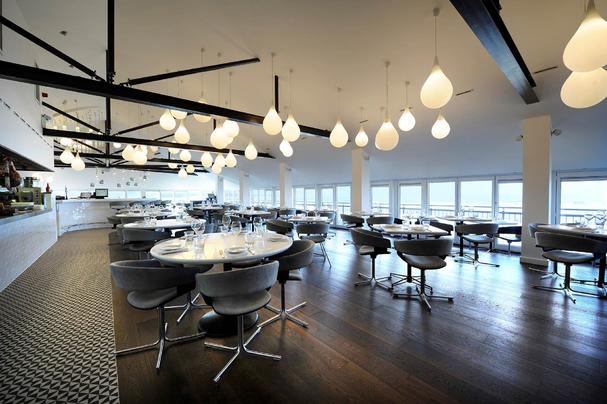 Jamie Oliver's Fifteen Cornwall
Collections used
B2B
Absolute Interiors (Cornwall) EU
Designer/ Architect
Overlooking the beach on the north coast of Cornwall, Jamie Oliver's Fifteen Cornwall restaurant underwent a major refurbishment in 2013. Absolute Design took the lead on the project, with the aim of creating a more colorful and contemporary space. Inspired by a new wave of expressive art called "Pop Surrealism", Newquay artist Ben Allen was commissioned to paint onto a blank white wall to transform the restaurant into a living work of art.
The designers wanted to create an equally striking flooring installation to complement the new, bold walls, and the Tarkett Floorcraft Design team was selected to meet the objective.
The result was a bespoke luxury vinyl tile installation featuring a mix of iD Inspiration 70 Patine black and beige tiles. More than 128,000 tiles were cut into small triangular shapes and carefully positioned to create a modern pop-art-style flooring pattern covering 80m2 in the main restaurant area. The result was a fresh and quirky environment for diners to enjoy.
An environmentally-friendly range, iD Inspiration 70 is composed of a minimum of 48% recycled content and is 100% recyclable. It is also one of the few flooring ranges on the UK market that is both manufactured and designed in Europe for a lower carbon footprint. VOC emissions are also below quantifiable levels, contributing to optimal indoor air quality.
 
Samantha Jones, Head of the Tarkett Floorcraft Design Service, shared: "Producing the flooring for Jamie Oliver's Fifteen Cornwall required us to cut exact replicas of thousands of tiny tiles no bigger than 25mm. The attention to detail was worth it —the result looks fantastic!"

Matthew Thomson, Chief Executive Officer of Fifteen Cornwall and Cornwall Food Foundation, enthused, "We received lots of great feedback when we first re-opened, and three years on, we are still really pleased with the final result. It is a truly stunning, timeless design that looks just as fresh and contemporary as it did when it was first installed."