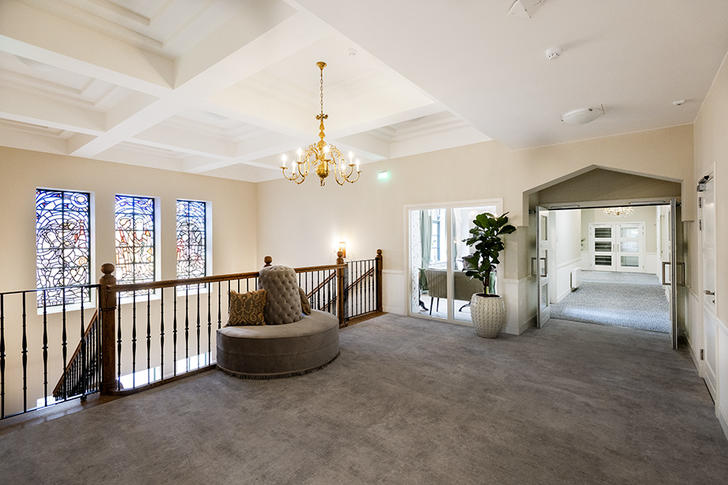 De Boschstede
2019 | Den Bosch, Netherlands
The Boschstede, a luxury residential care center for the elderly, wanted to create a homey yet lavish look, so both hard and soft floor coverings were installed in the building.
Domus Magnus built 39 luxury residential care apartments in the old outpatient clinic (Groot Ziekengasthuis), located in the center of Den Bosch and built in 1932 by the architect J.J. van Dillen. Residents usually live there after hospitalization to recover in a clinical yet home-like environment.
Studio Annders oversaw the design of the interior and created a calm and pleasant atmosphere for all the residents and employees. It was important that the colours and materials match the classic look of the interior and the style of the building. For example, neutral colors with a warm appearance were chosen for the residents' rooms. The floor was covered with Tarkett's heterogeneous vinyl Acczent Excellence 80, which is easy to clean and maintain. It was installed in the Long Modern Oak colour, which was specifically designed for this project, because the wood look gives the rooms a warm and spacious appearance. Tarkett's DESSO & Ex carpet and DESSO Jeans carpet tiles were also selected, but for the corridors on the first floor. The mixed structure of this collection provides a calm yet playful effect. The carpet tiles are both durable and practical for a clinical care environment. Lastly, a warm orange and soft yellow colouring was chosen for the shared garden and living rooms, where residents usually spend time together.
 "The most important aspect of the project was that the interior matched the exterior of the building. We wanted to create a homey yet lavish look with soft and warm materials. It is crucial that the residents who come to live at the Boschstede have access to all the medical care they need and at the same time feel close to the heart of Den Bosch. We believe, that the residents feel at home here and it is pleasant to work with the care staff."
Annemarie Visscher, Interior Designer, Studio Annders
About
The vinyl Acczent Excellence 80 and DESSO floors were chosen to provide a calm yet playful effect. They are both durable and practical for a clinical care environment.
Designer/ Architect
Studio Annders Interieurontwerpers
Building owner
Domus Magnus