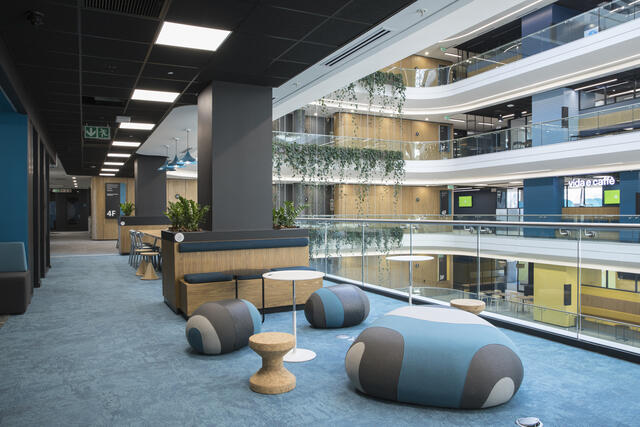 Deloitte Headquarters
2020 | JOHANNESBURG, South Africa
Deloitte, a leading global provider of audit, consulting, financial advisory and related services, recently occupied their new Africa headquarters in Johannesburg, South Africa. Dale Friedman, Associate at Paragon Architects, says the interior will change the way corporate offices are perceived and experienced.
"With a world class Interior that invites collaboration and movement, the new Deloitte Head office pushes the boundaries on anything we've seen in South Africa so far and is competitive with any corporate Interior globally," says Dale.
 
About the interiors

The ground floor of the 42, 500m² building is open to the public. The inviting space includes a coffee shop, restaurant, pub and an external pizza oven. The ground floor is linked to training and meeting rooms as well as Deloitte's "Greenhouse" and "Future Factory".
The concept of the building's interior is based around the buildings central racetrack. The building has six levels and one large atrium space that is divided by link bridges. The racetrack surrounds the atrium, creating an environment that can be seen by the entire building. On the eastern side of racetrack, there are pause areas while the western side has production zones with spaces that allow different types of working environments such as huddle rooms, team tables, single and two-seater spaces as well as large team areas. Every floor has social zones which contain various types of spaces such as yoga gardens, meditation booths, games rooms, nap pods, libraries and daily news rooms.

 29, 655m² of DESSO carpets tiles - Desert multiple colours - was specified for the project. Dale says this carpet was selected based on its aesthetics and technical alignment to the tender requirements. "When we saw the DESSO range, we instantly knew we wanted to use this in the fitout as it had the colours and design that fit into the Deloitte corporate Identity and our vision for the fitout. When companies such as Deloitte have a long lease period, it's important not only to install a carpet that looks good but also one that will stand the test of time," concludes Dale.
About
New headquarters of Deloitte in Johannesburg, in South Africa. 30 000 sqm in Desso Desert carpets tiles. Project achieved in February 2020
Designer/ Architect
Paragon Interiors